Reading Time:
3
minutes
Location
Dordrecht,
The Netherlands
By the Numbers
208 employees
30-50 people in the office daily
Office sites are spread across multiple locations
BESIX NL is a multidisciplinary company that specializes in construction, infrastructure, and marine works. Known for taking on complex assignments and technical innovation, Besix's collaborative approach allows it to find and build sustainable solutions for even the most challenging projects.
With a strong focus on collaboration, its headquarters in The Netherlands acts as a perfect example: every stakeholder, from employee to architect to contractor, was involved in the construction of this smart and sustainable building. As a result, its design reflects the character of the company: intelligent, flexible, and approachable.
The Challenge
Besix is a project-based company, with employees working from offices, remotely, and on project sites themselves. This means it was a challenge to maintain a firm collaborative culture with highly engaged employees across all locations. To bridge this gap, the company partnered with HqO and its renowned Workplace Experience Platform.
The Solution
Using the HqO app, Besix selected a package of functions and features to make sure that every employee could flexibly use the office — by providing mobile access to the building, for example. HqO users were also able to view desk availability, book meeting rooms, and report maintenance issues. Currently, Besix's customized HqO app goes beyond logistics: it also helps safeguard internal communication, connects on- and off-site coworkers, and enables all employees to share successes and knowledge. In all, it acts as an informal tool to engage with the company and encourages collaboration, no matter where an employee works.
A Sense of 'Us'
When rolling out HqO, Besix's initial launch activities were aimed at fostering a culture of communication — stimulating the app's usage and engagement. However, after a kick-off at some of the project sites, the use of the app snowballed. Employees began sharing updates and stories about their projects, leaving comments, and asking questions right away. Besix even uses HqO to onboard and welcome new colleagues. Used throughout all levels of the Besix organization, HqO proved especially useful during the COVID-19 pandemic, when remote work became the standard way to work. Everyone throughout the company is now a tap away from one another — not only professionally, but personally. It has offered the Besix community support and encouragement during difficult, extraordinary times.
The Results
Besix achieved its goals of creating a stronger building community through workplace experience technology. Additionally, the company received positive customer feedback for their efforts and innovative programming.
Notable wins include:
An HqO adoption rate of 99%
Approximately 73% of Besix employees use the app every week
Approximately 84% of Besix employees use the app every month
Besix employees currently benefit from in-app capabilities like room and desk booking, space usage, and more
Besix can also now leverage robust usage and employee sentiment data and insights to continuously enhance their workplace experience
With HqO, Besix keeps their employees engaged, wherever they are working. It also allows them to optimize their future workplace investments by updating KPIs and adjusting and consulting business strategies — enabling Besix to continuously explore new ways to keep its community connected.
"We really wanted to maintain that 'we' feeling throughout the entire organization and we needed a way to share – both our successes and personalities. This does not always come naturally in our line of work and HqO makes that really easy."
— Kitty Schuurbiers, HR manager, BESIX Netherlands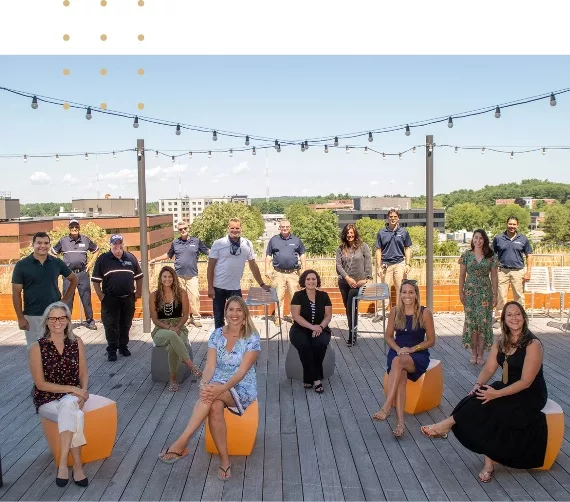 The Most Successful Workplaces are Powered by HqO