Reading Time:
4
minutes
By the Numbers
89 properties
1.3 million square feet
Entra owns, manages, and develops innovative and environmentally-friendly office buildings. Its Powerhouse Brattørkaia located in Trondheim, Norway, is one of the few buildings in the world that produces excess energy — which can then be used in other buildings and areas.
For Entra, being an innovative real estate company is more than offering high-tech buildings or managing standard building functions such as ventilation, lighting, and electricity. The company firmly believes the future lies in making life easier, more accessible, and friction-free for everyone who uses the building. To realize this vision, Entra partnered with HqO and its Workplace Experience App.
Powerhouse Brattørkaia
Powerhouse Brattørkaia is the biggest new energy positive building in Norway, covering 18,200 square meters and standing eight stories tall. It is designed to generate more energy in its operational phase than it consumes through the production of building materials, construction, operation, and disposal of the building. The building has been designed based on environmental requirements. When environmental considerations come first, a new type of architecture emerges. For Powerhouse Brattørkaia, form follows environment, while optimal use of solar energy has determined the building's exciting and iconic architecture. Solar energy, other sources of renewable energy, and an extremely low energy consumption ensure that this becomes an energy-positive building. The actual building is well-insulated, with limited needs for heating and excellent ventilation. The building is thus comfortable to work in, featuring an excellent office space characterized by light and air and a nice view of Trondheimsfjorden and the Munkholmen island.
The Solution
In close collaboration, the two companies constructed the perfect workplace experience platform, fully based on the needs and wishes of the building's tenants. The result? A common tool that seamlessly connects tenants and employees with services and facilities in and around Powerhouse Brattørkai.
The platform integrates with existing systems, including room booking tools, access gates, and catering systems. This offers users a unified experience wherever they are: opening office doors with their phone, checking real-time availability of meeting rooms, finding their way within a building via interactive mapping systems – even with everyday activities like picking up lunch or planning a workout.
Beyond Integration: Building a Community
At Powerhouse Brattørkai, Entra uses HqO as the main channel of communication between itself and its tenants. The platform is widely used to invite people to events, start workout groups, or share other common interests, and is rapidly evolving into a workplace community, much like a social network.
Entra believes that this broader approach is becoming the new standard of demand in the workplace experience, wherein the challenge in area development is not just developing a building, but an entire culture. This way, satisfied tenants can drive growth, empower innovation, and bring creativity to a workplace.
Entra is also using HqO to improve its services and efficiency. Intuitive dashboards combine insights on daily usage, building functionalities, and working hours, creating a powerful analytics engine. This enables building managers to make smarter, data-driven decisions to further optimize tenant experience – and allows Entra to have full control on its road to success.
The Results
Entra achieved its goals of creating a stronger building community through workplace experience technology. Additionally, they received positive customer feedback for their efforts and innovative programming. Notable wins include:
More than 93% of Entra tenants have adopted the app
Entra regularly sees about 75% monthly engagement through the app
Entra tenants currently benefit from the following app modules: Community, Events, Issue Reporting, Mobile Access, Room Booking & Navigation, Restaurants, Catering, and Coupons
"I don't think I've seen this high adoption this quickly before, ever. This shows that we have created a product together that the users need. And that's the goal: We want to offer something that gives value to everyone
working in our buildings."
— Trine Kristoffersen Eidem, Product Manager, Digital Service Platform
Looking Ahead
The platform is so successful that it will become a large part of Entra's digital offering, expanding to a considerable part of its building portfolio. It's the beginning of an exciting journey – with Entra and HqO working together to develop new services to make an office experience as smart and innovative as Powerhouse Brattørkai.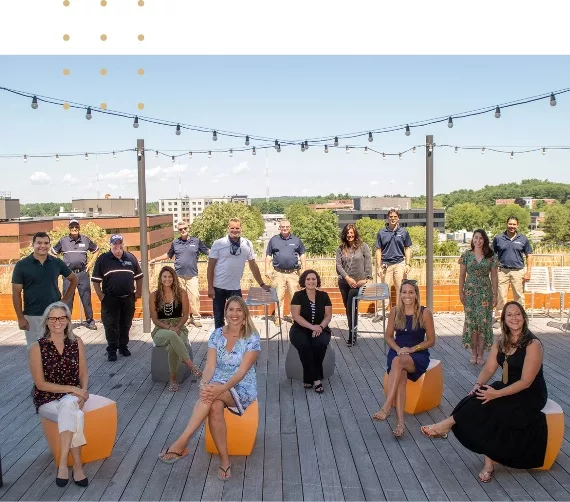 The Most Successful Workplaces are Powered by HqO