Reading Time:
5
minutes
Overview
Summary: Hudson Pacific Properties needed a tenant engagement and communication tool to connect with their tenants in the midst of the COVID-19 pandemic. With HqO, they stayed involved with their building community and achieved in getting 74% of users to stay engaged with their building app.
Modern commercial real estate (CRE) owners and operators face significant complexity and change: with a rapidly evolving industry accelerated by the COVID-19 pandemic and over 8,000 proptech companies to choose from, it's no easy feat to find the best solutions to safely attract and retain tenants while differentiating your assets. Additionally, the rise of hybrid work models and new innovations for the workplace have shifted the CRE value equation from buildings and location to the building occupants themselves – prompting a revised focus on connecting with tenants and their employees through new digital mediums. 
In fact, 92% of property managers are planning to maintain or increase their spending on tenant experience this year alone. These landlords recognize the value in technology's ability to blend physical and digital workplace experiences. And, by finding new ways to engage with tenants — even when they're not in the building — they can optimize tenant engagement across all of their assets while adopting a data-driven approach. This is because technology can not only bring typical on-site amenities to tenants everywhere, it can also collect important data to inform landlords of how people are really using their buildings while addressing currency-day health and safety concerns.

Hudson Pacific's tenant engagement strategy leverages HqO's technology to accomplish just that. Hudson Pacific, a real estate investment trust with a portfolio of office and studio properties focused on premier West Coast epicenters of innovation and technology, considers excellent customer service one of the company's core values. In order to effectively deliver on this promise during the pandemic, the Hudson Pacific team accelerated the roll-out of the HqO Workplace Experience App across its multi-tenant portfolio. This rapid deployment has positioned Hudson Pacific as an agile leader in the CRE space as one of the first major landlords to roll out an app on this scale.
Hudson Pacific
Hudson Pacific's portfolio covers over 16 million square feet, consisting of premier office and studio properties in Los Angeles, San Francisco, Silicon Valley, Seattle, and Vancouver, Canada. For more than a decade, the company has owned, transformed, built, and operated these properties to create desirable workplace environments and provide services that enable employees to thrive.
One of these properties in particular — Bentall Centre located in downtown Vancouver — serves as a prime example for Hudson Pacific's customer service success. The 1.5 million square foot Bentall Centre houses four tall office towers that are connected by a large plaza and subterranean retail complex. Sitting atop one of Vancouver's subway stations in the city's financial district, it also boasts of extensive amenities and panoramic views, making it an iconic destination in the heart of Downtown Vancouver.
"Customer service is extremely important to us. Due to our core business values, the tenants we serve, and the type of buildings we manage, we've always felt that best-in-class customer service is a key differentiator. It's even more true now that the expectations of real estate tenants are evolving in the post-pandemic world."

— Natalie Teear, SVP of Innovation, Sustainability, and Social Impact at HPP
"Technology is transforming every sector; it's been transforming real estate for quite some time in a lot of different ways. COVID-19 has accelerated that process. But there are a lot of questions to tackle, including:  Where do you focus? How do you vet different vendors? How do you prioritize different initiatives? How do you roll something out to pilot, and then scale strategically? It can be really complicated for a real estate company to dive into the tech world, so it's important to do it thoughtfully."

— Natalie Teear, SVP of Innovation, Sustainability, and Social Impact at HPP
The Solution
With the onset of the COVID-19 pandemic, Hudson Pacific implemented a range of solutions to keep their buildings safe. One near-term priority was the ability to conduct real-time communication with tenants. They saw tenant experience technology as a way to update occupants of key operational changes and nurture trust during a time of major uncertainty.
HqO and Hudson Pacific worked together to provide an initial, lightweight version of the tenant app that would serve as a communication tool for the pandemic. Because there was an urgent need to communicate directly with tenants, they were able to expedite this process and launch the app across 31 of Hudson Pacific's multi-tenant properties in less than 30 days. Over the next few months, HqO continued to help Hudson Pacific build on this success by implementing the full version of the HqO Workplace Experience Platform, which provides end-to-end solutions for commercial real estate teams.
The Results
The Hudson Pacific team achieved its goal of maintaining outstanding customer service efforts during the pandemic with the help of the HqO app. For example, at their Bentall Centre property, 74% of the property's app users engaged with the app in a span of 60 days.
"The [HqO] app gives us the opportunity to provide services and convenience in a lot of different ways that create better experiences for tenants. This is especially critical now because of the pandemic. We're able to communicate and deliver virtual events, engagement, and services in a way that wouldn't be possible without technology."
 — Natalie Teear, SVP of Innovation, Sustainability, and Social Impact at HPP
Workplace Experience Highlights
"As a real estate company looking to attract and retain leading media and tech companies, investing in tenant experience technology is a must for us. To create an optimal environment in which our tenants can thrive, we need to be a leader in technology — today and in the future."

— Natalie Teear, SVP of Innovation, Sustainability, and Social Impact at HPP


Communicating Protocols
Hudson Pacific's app includes several communication features that can be adjusted for specific needs. One of these is a section dedicated for property-wide memos. The Bentall Centre property management team uses this feature to communicate with tenants on everything from protocol and cleaning changes, to confirmed COVID-19 cases, to construction updates that may impact tenant access to the buildings.
Reserving Time for Fitness
 Despite the many area closings due to the pandemic, the gym in Bentall Centre remains open. In order to keep the facility running while also abiding by capacity limits and social distancing guidelines, Hudson Pacific leveraged the HqO app to help tenants reserve specific time slots to work out. Because of this feature, they are able to keep the gym running and working smoothly and safely.
Sporting a Lively Culture
Hudson Pacific's Bentall Centre team has hosted fun, engaging events through its app in order to drive community among tenants — even while many of them are still working from home. One of these events included a popular hockey pool, where tenants could sign up for a chance to win an iPad Pro, Beats Headphones, or an Amazon gift card.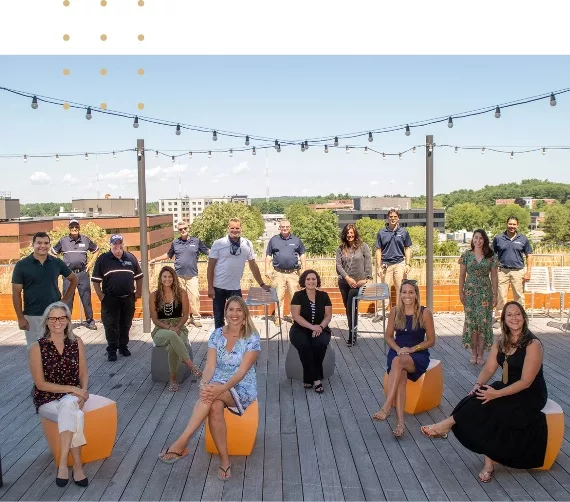 The Most Successful Workplaces are Powered by HqO