Reading Time:
6
minutes
Overview
Summary: The Swig Company always invested heavily in tenant engagement, but needed a more modern platform to spread its company culture and brand. Together with HqO, they elevated their landlord brand and integrated with existing amenities and features to create a world-class workplace experience.
When it comes to elevating the workplace experience, modern property owners need to remain agile and proactive in order to meet evolving tenant demands. This not only involves the early adoption of technologies that can open the door to a world of possibilities in tenant engagement, but also taking on a data-driven approach to determine how a property's end users are really using the building.
These strategies will take a leading role in bridging the gap between physical and digital experiences as hybrid work models continue to rise. Workplace experience software is now a necessity for the changing standards of the industry by creating new value drivers that will change office buildings forever. Capabilities that address modern health and safety concerns — such as touchless experiences, building communications, and virtually activated amenities — have shifted from a nice-to-have to a need-to-have in the industry. Thus, landlords are seeking out tools that unify these solutions in a personalized, efficient way.
The Swig Company
The Swig Company's approach to their Bay Area office buildings is a prime example of leveraging tenant experience technology to place the customer first, while also further establishing their brand and ethos through re-invigorating an already energetic workplace culture. Swig sought to expand upon their existing tenant programming in a way that was both meaningful and adaptable with the times — placing emphasis on their return to the workplace, corporate social responsibility efforts, and sustainability initiatives to keep their tenants informed, aligned, and involved with the company's progressive goals.
Located in the Bay Area, 501 Second Street, 444 Castro Street, and The Mills Building are all owned and operated by The Swig Company, a privately-owned real estate investor operator based out of San Francisco. Swig carries a venerable 80 year history of investment, development, partnership, and management of commercial properties in major U.S. markets.
501 Second Street
501 Second Street is a premier, Class A office building in San Francisco with high, open ceilings, great views of the city, and significant creative space to accommodate a diverse range of tenants. The 210,000 square foot, seven-story building also boasts on-site parking with EV chargers, building amenities such as shower and bike rooms, and an outdoor terrace.
444 Castro Street
444 Castro Street is the only Class A, 12-story building located in downtown Mountain View, which is the heart of Silicon Valley. At 170,000 square feet, its superior views are complemented by its newly-renovated outdoor plaza spaces, fitness center, reservable conference room, and underground parking with EV chargers.
The Mills Building
The Mills Building, which was originally constructed in 1892, has been owned and operated by Swig since 1954. The property, which is also the location of Swig's headquarters office, hosts a rich variety of tenants in its robust, naturally-lit, 460,000 square foot structure. The building is home to several well-known restaurants and cafes, as well as a newly-completed conference facility, tenant lounge, and bike storage area.
"We've seen a big shift over the past few years in what tenants are looking for in the spaces that they use. Flexibility, speed of delivery, and offerings that enhance the experiences and well-being of employees have become more important considerations. We have worked very hard to bring amenities and services to our buildings that support these priorities, while also developing creative platforms to engage our tenants and positively impact our local communities."

— Jay Scholten, Vice President, Innovation and Asset Management at The Swig Company
The Challenge
Before the arrival of COVID-19, Swig had already begun to heavily invest in tenant engagement across their properties. Deborah Boyer, the Executive Vice President and Director of Innovation and Community Impact at Swig, led the creation of the h3experiences platform to encompass Swig's efforts in workplace innovation and technology, sustainability and wellness, and community impact. h3experiences — representing the head, hands, and heart of the company — centers on individuals by creating environments that foster community and put people at their best.
Swig's initial home for h3experiences was its website, and their communication efforts were limited to email. Upon partnering with HqO, Swig was able to expand their capabilities to connect directly with the people working in their buildings. Once the pandemic hit and separated their workforce, they realized that this would also be a valuable tool for staying in contact with tenants and conveying important information. Swig partnered with HqO to send notifications about changing building policies, safety information, timelines, and what to expect when returning to the office. Additionally, HqO expanded Swig's digital content offerings for its tenants, including remote work tips and virtual wellness classes.
A Partnership Driven by Community
Swig's community-focused mission meant they had already heard about tenant experience technology, and it just came down to selecting the right partner for their needs. After comparing the available systems out there, they knew they wanted a platform that could not only holistically channel h3experiences, but one that could integrate with existing building amenities and features to enable tenant use in a seamless way. Thus, they landed on HqO's robust Workplace Experience Platform.
From 2019 to 2020, HqO's team worked closely with Swig to review their goals and provide custom solutions that would invigorate their tenant experience strategies across the three designated properties. As COVID-19 concerns grew, they were also able to leverage their building app to assist with office re-entry concerns by disseminating important information across their properties, while simultaneously nurturing their relationship with their communities through virtual engagement and programming such as surveys, fitness sessions, and even an opportunity to donate meals to frontline workers through local restaurants.
"A primary goal of h3experiences is to create excitement about the communities within our buildings, and for us to work together with our tenants to support our neighborhoods and local organizations. Connecting with our tenants is a critical part of this effort, and HqO has enabled us to engage directly with the people working in our buildings. We have received positive feedback from our tenants, and the value of this platform has continued to increase in the COVID-19 environment."
— Jay Scholten, Vice President, Innovation and Asset Management at The Swig Company
The Results
The Swig team achieved their goals of elevating the h3experiences brand and remaining connected with their tenants through the HqO platform. Additionally, they've received positive tenant feedback for their efforts and innovative programming. Notable wins include:


Over 50% of app users have been actively engaged month-to-month

An impressive 53% of tenant employees are already signed up for the app at 501 Second Street

Events programming, such as free chair massages and smoothies, has received the most engagement and clicks in the app (reaching as high as 81% of app users in the 501 Second Street building)
Digital content also ranks highly, with over 60% of registered 444 Castro Street app users staying engaged with the feature since the pandemic

Workplace Experience Highlights
Audiences for Philanthropy
Using HqO's Audiences feature, Swig promoted California wildfire relief posts to its own corporate and property employees across the three buildings. App users who opted in to push notifications received a highlight of local wildfire relief efforts and organizations, alongside a reminder about Swig's internal match donation program.
A Culinary Success
Swig partnered with Life Learning Academy, a local charter school for at-risk children, and has been helping bring notice to their culinary program. The students, who are learning how to cook, routinely sell their creations through bake sales and a farmer's market. Through the app, Swig has not only promoted two of their bake sales to its tenants, but has also shared information about the school and ways to further support them.
Adapting Based on Real-time Feedback
Swig has engaged its tenants with consistent surveys through its app to help determine what has been popular for tenants, what they want to hear more about, and more on a monthly basis. This has been especially crucial during the pandemic, aiding in the shift from in-person to virtual programming.
More Engagement on the Horizon
Swig is currently seeking to build on the HqO platform, exploring options to implement the app across more of its properties in the Southern California area. Through the support of HqO's Workplace Experience App, Swig has differentiated their assets and produced positive, lasting impacts for all of their end users. By investing in strategies that could enhance engagement through existing and new programming initiatives, they addressed their tenants' needs and connected with them in a way that previously couldn't be done — while still growing their larger h3experiences platform. They also quickly switched gears and took advantage of the app's tools to bring tenants back to buildings when occupancy was low. With more integration plans for future buildings, Swig will successfully continue to offer an adaptable, innovative workspace to all tenants and employees.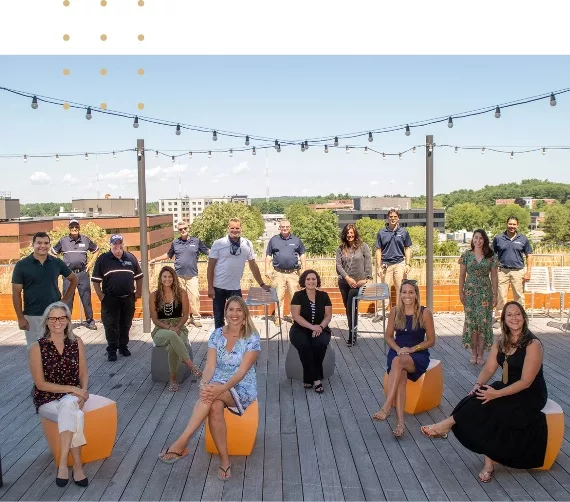 The Most Successful Workplaces are Powered by HqO