Reading Time:
3
minutes
By the Numbers
21,569 sq meters
82% OfficeApp Adoption Rate
10 properties in Amsterdam
Summary: With sites at some of Amsterdam's most prestigious addresses, The Collection is one of the leading bespoke office spaces in the Netherlands. After initially partnering with Dutch technology provider OfficeApp (now owned by HqO) in 2020, The Collection decided to transition to HqO in order to bring its workplace experience to the highest possible level. With an 82% adoption rate just a few months after launch, the custom-branded The Collection Amsterdam App (powered by HqO) has already helped The Collection's team achieve its goal by delivering a world-class workplace experience at ten of its bespoke properties in the center of Amsterdam.
"The App is a big part of our community and…a strong contributor to our success."
The Client
In the world of premier commercial real estate, no two workplaces are exactly alike. That's particularly true of The Collection and its network of bespoke office spaces, each of which is situated at a different desirable location in Amsterdam's city center.
At The Collection, office buildings aren't called "buildings'' or "workplaces''. Instead, they're called Chapters – a name that's meant to reflect the individuality and bespoke nature of each building's unique slate of offerings. Chapter No. 3, for example, is a 2,290 sq. m. building in the center of Amsterdam, while Chapter No. 6 – a 1,500 sq. m. development – is also in the city centre; both are situated at monumental addresses in the city. Each of The Collection's Chapters is located in a unique building with its own history and its own distinct appeal, and that distinct appeal is a huge part of what makes these locations so desirable to members.
Regardless of the space where they happen to be working on a given day (e.g., at their office or in the lobby), tenants at The Collection have always enjoyed seamless access to some of the highest quality and value workplace experiences that Europe has to offer.
"The team at HqO is a pleasure to work with. They are always willing to listen to our ideas and suggestions, and always try their best to help."
The Challenge
Like most property teams, the team at The Collection wanted to ensure that building occupants have reliable, seamless, around-the-clock access to all office amenities, services, and spaces. But with The Collection, this was no small task. Given that the company has properties in several different neighborhoods in Amsterdam, the team knew that they needed a technology solution that would be reliable and versatile enough to function in many different physical locations. The team also knew that they wanted to implement technology that could help reinforce their organisation's strong brand identity and sense of place, both of which have been critical to The Collection's long-term success.
The Results
By partnering with HqO, tenants at The Collection now use a custom-branded app that reflects and reinforces the unique brand identity of their organisation. Tenants are also able to book services and amenities (like gym spots, meeting rooms, as well as private boat and garden amenities) at any of the ten Collection assets where HqO is now active.
Other notable wins include:
100% lease renewal following adoption of the App

82% HqO Adoption Rate

78% of users have booked an amenity through the App

70% of building occupants use the App regularly
Since transitioning from OfficeApp, the property team at The Collection also learned that their gym spaces were in high demand; as a result, the team increased the square footage to accommodate higher capacity to better serve their tenants. Using the HqO-made The Collection App, tenants at The Collection are now able to use the company's full suite of bespoke services and amenities at all of their ten locations, soon to be twelve.
"A lot of processes are automated by the system…it therefore reduces manual labor greatly."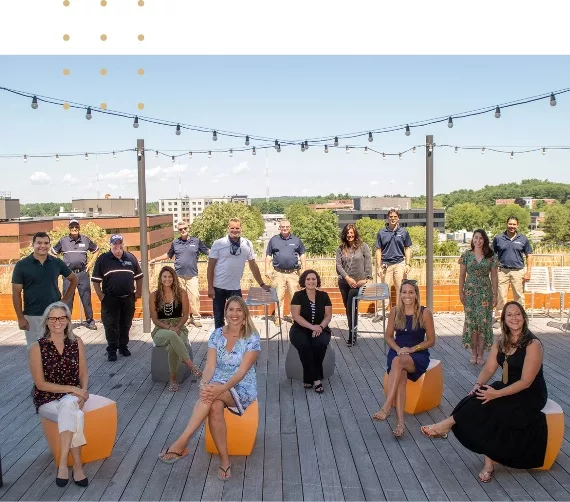 The Most Successful Workplaces are Powered by HqO