Reading Time:
3
minutes
Locations (UK)
Birmingham
Greater Manchester
Leeds
Liverpool
By the Numbers
580,518 sq meters
(6,248,646 sq feet)
Client Type
Commercial Developer & Landlord
Summary: The Bruntwood Group is a UK-based commercial property company with over £1.5 billion (~$1.8 billion) of property under ownership. As a family-owned business with a longstanding commitment to customer success, Bruntwood is constantly searching for new and innovative ways to improve the workplace experience for customers across their portfolio. That's why the company partnered with HqO to implement the custom-made Bruntwood app at 46 of their buildings and campuses across the UK.
The Client
With over 60 premium properties across the UK, from Cambridge to Glasgow, the Bruntwood Group is one of the country's leading commercial property specialists. As a forward-thinking organisation, Bruntwood has always been quick to adopt the latest and most important industry trends. That's one of the reasons why they decided to implement workplace experience technology at several of their UK properties.
Before making the decision to partner with HqO, Bruntwood knew that they wanted to adopt a digital first mindset to serve their customers in new and innovative ways. In particular, the Bruntwood team knew that they wanted to use digital technology to:
Improve access to office spaces
Enhance retention by strengthening relationships and enhancing the community ethos with customers
Improve access and booking ability to amenities across their entire portfolio
After a thorough search for a suitable technology partner, the company decided to select HqO.
According to Bruntwood, HqO won out over the competition due to its extensive list of product offerings, its established track record of success, and its ability to offer ongoing customer service and support. HqO was the technology partner that was best placed to help Bruntwood meet its business goals by enhancing its workplace experience strategy.
The Results
After collaborating with the Bruntwood team to gain a better understanding of their needs and business priorities, HqO designed the Bruntwood app, which rolled out seamlessly in the spring of 2022. After a string of successful launch events, the app went live at 46 of Bruntwood's properties. The results speak for themselves:
4.8/5 end-user satisfaction score

93% engagement rate

108% increase in event attendance since launch

53% adoption rate—five times the industry standard
By partnering with HqO, the Bruntwood team was able to achieve all of its primary business objectives. And, with enhanced access to building services, amenities, and events, Bruntwood customers are happy customers, which means better business in years to come.
"Not only has the app had a pivotal impact on how we engage with our customers and provided a seamless way to elevate the in-building experience, offering customers further surprising and delightful opportunities throughout their working day, but it's also transformed internal relationships – driving a cultural shift in project scope creation."
— Feedback from Bruntwood staff
Feedback from Users
"Very straightforward to use, lovely perks and things to win. Didn't know that so much was going on so it's opened my social diary too!"
"The events and discounts being offered are so good and the opportunities to win competitions are really fun! It's user-friendly and incredibly easy to find what you want"
"Seems well put together, great idea to have an app for the building."
Bruntwood and HqO: an Award-Winning Partnership
In October of 2022, the Bruntwood team's hard work and intelligent planning were rewarded when they received three award honours at the annual UK Customer Experience Awards. The rollout of the Bruntwood app and its subsequent engagement success was acknowledged by the judging panel in the award for Best Use of Customer Insight. The team was also named Overall Winner of the competition for receiving the highest score across all categories. The award wins are a powerful validation of the Bruntwood team's forward-thinking strategy, made possible by HqO.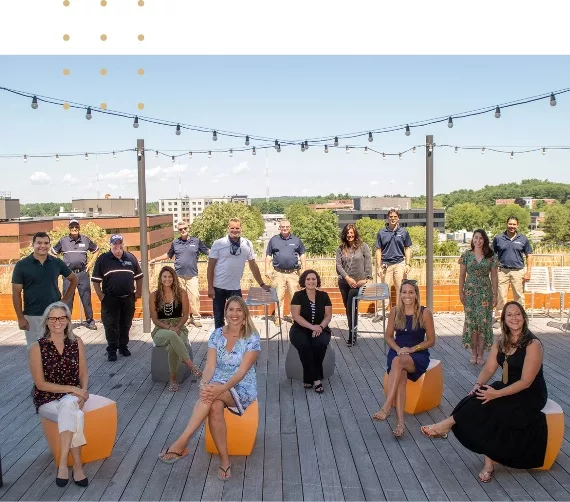 The Most Successful Workplaces are Powered by HqO