Reading Time:
5
minutes
In the same way the COVID-19 pandemic had a profound impact on the workplace and the state of work, it also had an impact on the food and beverage industry. The way customers select and purchase from local restaurants and retailers has drastically changed, with 60% of consumers now ordering delivery or pickup at least once a week. Because of this, takeout orders are set to represent 21% of restaurant industry sales by 2025.
This shift in consumer habits speaks to a larger trend in the food and beverage industry: the acceleration of digital strategies. By going digital, restaurants and retailers have the chance to not only expand their customer base by reaching hybrid workers no matter where they're located, but to also optimize and personalize their businesses to keep people coming back for more. This was the case for world-class restaurant chain DMK Restaurants, which strives to create emotionally resonating experiences by identifying the unique needs of every guest to shape their hospitality-focused dining services and offerings. As a vendor, they worked in tandem with HqO and The PENN District's property management team to heighten their impact and achieve mutually beneficial success at PENN 1, an iconic office skyscraper in New York City.
PENN 1
PENN 1, owned and operated by Vornado Realty Trust, is part of a 4.4 million square foot connected campus located in The PENN District. The campus has been transformed to support the future of work and includes: dramatic new lobbies surrounded by landscaped plazas; full-service restaurants with cocktail bars and private dining rooms; additional retail locations such as coffee bars, curated grab-and-go experiences, and fast-casual restaurants; a grand social stair and bleacher seats; a tenant library; work lounges, and a 280-person Town Hall for tenant presentations, product launches, and events. The campus also supports WorkLife, Vornado's hospitality-focused amenity ecosystem for tenants that supports both work productivity and self-care — making it a natural fit for DMK Restaurant's strong commitment to hospitable dining experiences.
The Vision
Before partnering with HqO, DMK Restaurants sought a cost-effective solution to reduce process times and connect with their local community. By optimizing their services, the restaurant company would be able to focus on their brands and the external experiences they offer. In turn, this would grant their front-line teams more time to connect with guests and work on behalf of their experiences.
"Every workplace has its own unique culture, so we use technology to mold experiences to what our workplace guests seek. For example, while your average American worker takes approximately 12 minutes to enjoy lunch, there are other work cultures that more deeply integrate food, beverage, and hospitality into their workday. In both cases, we are eager to 'wow' both groups and all others!"
— David Morton, Proprietor at DMK Restaurants
"We are very proud of the best-in-class technology stack we have created to drive a frictionless experience. HqO is one of the finest tools we have to effectuate this. In addition to the intuitive, user-friendly nature of the HqO platform, it's also the best tool we have to communicate with building communities, offer them special perks, and drive a relationship with them."
— David Morton, Proprietor at DMK Restaurants
Fueling Hospitality Through Technology
DMK Restaurants hosted several events and services through the HqO app to elevate the workplace experience and build strong relationships with the people in and around The PENN District. In November, they launched Office Hours, a grab-and-go cafe based out of the PENN 1 lobby. The PENN building app currently has an exclusive tenant-priced menu for all app users, and allows individuals to order ahead or schedule pick up to best fit their needs. That same month, the companies also collaborated on the CSA Farm Box, an order ahead farm box that app users can order from for pick up the following week. Most recently, HqO and DMK Restaurants plan to expand upon these existing feature sets by launching a fully integrated catering experience — complete with resource booking — to allow users to book catering via Office Hours.
The Results
DMK Restaurants achieved its goals of engaging with The PENN District community through workplace experience technology. Additionally, they received positive customer feedback for their efforts and innovative programming.

Notable wins include:


The ability to order, view monthly specials, and receive tenant-exclusive perks has made HqO a popular tool for The PENN District tenants and DMK guests
Since launching Office Hours, HqO has facilitated a total of $2871.55 in ordering sales and 344 orders via the app alone
Office Hours saw nearly 100 customers place orders through the app during its first four weeks, with an 86% customer return rate
The week that Office Hours launched, the restaurant had its busiest week of app sales and saw the most orders in a single day
Office Hours remains HqO's highest-selling vendor across the entire platform
"The HqO platform is extremely easy to use and at no cost to DMK Restaurants as a vendor. Where we found opportunities for new features or optimization, HqO was eager to work with us on creating those solutions."
— David Morton, Proprietor at DMK Restaurants
A Hospitable Future
DMK Restaurants is continuing their partnership with HqO and bringing new and exciting offerings to The PENN District community. These include launching a large sit-down restaurant called The Landing, which allows app users to make early-access reservations, order ahead, and schedule pickups. The Landing also has a digitally-facilitated dine-in option accessible through its balcony area. Guests of the restaurant are able to scan a QR code, pull up their location menu, order and pay through the app, and then seamlessly have the order brought to their location on the balcony. Additionally, HqO is also helping The Landing facilitate catering through the app's white-glove interface to strengthen The PENN District brand and deliver a truly hospitable dining experience.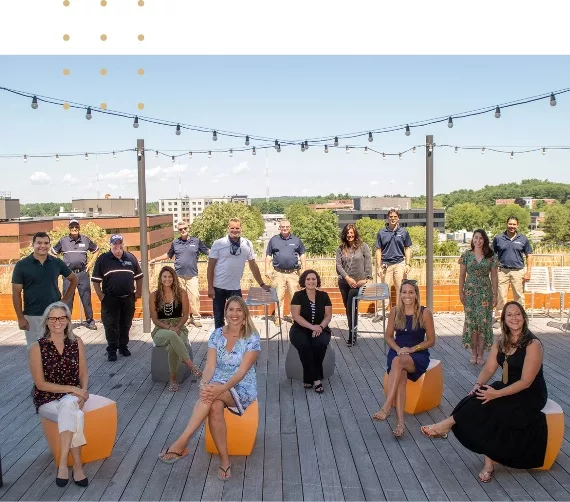 The Most Successful Workplaces are Powered by HqO