Reading Time:
6
minutes
Overview
Summary: J.P. Morgan sought to support its retailers at the iconic market location, as well as enhance the property experience for its office tenants and public guests. With HqO, they implemented a public version of the Workplace Experience App to keep people informed and connect them to the property in a safe way that also elevated its on-site retailers.
Client Type
Asset-Level Public-Facing
In a post-pandemic world, addressing health and safety concerns through capabilities such as building updates and virtually-activated amenities has shifted from a nice-to-have to a need-to-have. Therefore, commercial real estate (CRE) landlords have been seeking tools to achieve customizable, end-to-end solutions for their properties. They've also been rekindling connections with their end-users in order to better understand evolving tenant needs.
At London's coveted Spitalfields Market, landlord J.P. Morgan wanted to create safer — and more engaging — experiences for their tenants and visitors. Additionally, the global landlord knew the following were critical to their success: re-opening their office space and market post-lockdown; providing information on COVID-19 safety measures; granting Spitalfields Market's office occupiers access to the market, its traders, and deals; and elevating their sustainability initiatives.
In order to supplement their on-site amenities in ways that reduced congestion and created more touchless experiences, J.P. Morgan also knew that capabilities such as order ahead were paramount to their success. Therefore, they sought to lend a voice to their retailers, while strengthening their relationship with office tenants through exclusive access to the marketplace, creative deals, and more.
Spitalfields Market
Spitalfields has been the site of a marketplace in East London for over 350 years, serving as one of the oldest attractions to its surrounding communities. In fact, traders have been operating on the site, as it stands today, since 1666. Though Spitalfields Market is a well-known venue, the scale of the office space located at Bishops Square is significantly less known. Thus, caring for the number of people who work there on a daily basis — in addition to public visitors — remains a key consideration for J.P. Morgan and the on-site property team. The market itself provides a lively scene for food, fashion, art, music, and events. Open seven days a week and adjacent to nearby Liverpool Street Station, its availability, proximity to the city, and long-standing history of supporting diverse traders and artists make it a destination for all of London.
"Engagement with the occupiers of our spaces has always been important to us. Appointing HqO has enhanced our reach to all occupiers in ways we never thought possible. The ability to understand the needs of all tenant groups and give a voice to the retailers has been critical to us this year more so than ever. The feedback the HqO platform provides us and our ability to respond instantly has become a game changer."
— Paul Harris, Vice President, Global Real Assets, Real Estate Europe at J.P. Morgan
The Challenge
J.P. Morgan knew that the heart of their busy market location was its independent retailers. With this in mind, they sought to give them a voice while elevating the overall experience for both tenants and Spitalfields' many visitors (at peak times, the market can see nearly 300,000 people per week). Since the food trucks at Spitalfields Market have always been a crowd favorite, J.P. Morgan recognized that reducing congestion in these populated areas would be a good place to start. The COVID-19 pandemic further accelerated this need, prompting for more touchless ways of ordering, paying, and collecting food.
As one of the world's leading landlords, J.P. Morgan was already familiar with tenant experience technologies. They knew they just needed to find the right, reliable partner and provider. After meeting with HqO, their Asset Management team was able to identify opportunities within the J.P. Morgan portfolio where HqO could truly make a difference. They were also able to discover synergies between HqO projects in the United States — such as Chelsea Market in New York and Ponce City Market in Georgia — and their own London-based equivalent at Spitalfields. Taking their vision one step further, they sought a public-facing version of the product to help out retailers suffering from the negative industry impacts of the pandemic.
Activating Endless Possibilities
After working closely with HqO's tenant experience team, Spitalfields became the first building in the United Kingdom to provide order ahead capabilities to a public audience. In July 2020, J.P. Morgan launched the HqO Workplace Experience App exclusively for its office users to maximize engagement with Spitalfields tenants and to test drive the app. This was especially important, since the Spitalfields Workplace Experience App was also the first public-facing app for the HqO platform.
The following month, they successfully released the app to the general public with specific, retail-focused branding. As part of this initiative, mobile ordering is now in place for a number of the food trucks on Lamb Street, including: Mr. Bombay, Ebby's Kitchen, Smokoloko, The Coop, and Rainbo. Some key benefits of this feature include the ability to browse menus at leisure, avoid queues, pay via contactless methods such as Apple and Google Pay, and save time by receiving live order updates directly to one's phone.
"Our desires went beyond the need to connect with just our occupiers and retailers, conscious of the high volumes of public visitors we welcome to the market. Once we'd seen the value in the platform, we worked with HqO to further develop a publicly available version of the app. Our visitors are now more connected and we love that they can order from the food trucks to avoid queues."
— Paul Harris, Vice President, Global Real Assets, Real Estate Europe at J.P. Morgan
The Results
J.P. Morgan achieved their goals of elevating the experiences at Spitalfields by activating on-site retail and keeping their end users connected in an otherwise uncertain time. Notable wins since the public-facing launch include:
Currently, three of the top five pieces of most engaged with content include order ahead options, the other two are in-app offers
Five of the top ten pieces of content are food and beverage (F&B) offers
Users have engaged heavily with events information and COVID safety/re-opening information
"This is a very good initiative from Spitalfields Market and will help a lot in promoting our businesses in these difficult times!" 
— Ábia Viziolo, Co-owner at Smokoloko / The Coop Foodtrucks, Spitalfields
Workplace Experience Highlights
Special In-app Offers
HqO worked with a number of the on-site retail and food and beverage vendors to curate exclusive in-app deals. This helps promote the available stores while also encouraging visitors to engage with the retailers.
Discounts for Sustainability
Tenants and visitors benefit from a 10% discount from all participating street food vendors when they bring their own reusable containers.

Access to Commuter Options
The transit screen integration allows for users to effectively plan their best route to and from the market by offering live local transport information, which is geolocated to the market. The screen can also list the nearest Santander bikes, docking stations, and the number of bikes available at each station. This supports the increased number of cyclist commuters in central London, and prompts safe, sustainable commuting.
Easy Navigation
A directory is available for app users to browse the retail and food and beverage vendors available on-site, including deals and offers. Each company profile includes company information, where to access them on site, and a link to their website.
Events Insights
An events calendar in the app communicates and facilitates the booking of events that are being hosted on-site, such as Spitalfields' Arts Market, Christmas lights, and Christmas Markets. This feature has also been leveraged to communicate the re-opening of the market and their events post-pandemic.
Communicating Key Information
With the app available to download to the public, it's a direct and effective means of communicating key information. Spitalfields has used this to share their COVID-safe information, re-opening details, and more.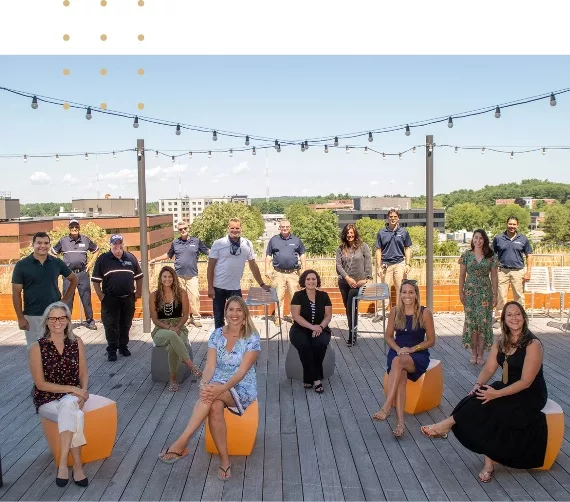 The Most Successful Workplaces are Powered by HqO