Reading Time:
7
minutes
Location
Boston, New York City, London, Paris, Amsterdam
By the Numbers
200 employees
19,736 sq. ft.
As the leader in workplace experience technology, HqO sought to give our own employees the same digital tools and engagement strategies that we provide for HqO's corporate clients. Thus, the team collaborated internally across five key offices across the globe — seeking to launch a unified workplace experience app that every HqO employee can enjoy, no matter where they are located.
Drinking Our Own Champagne
At HqO, we know that workplace experience goes beyond the physical office — and, oftentimes, even beyond our remote or hybrid work environments. 
In fact, workplace experience means something different to everyone. There is no such thing as a one-size-fits-all solution to creating the best possible work environment. Even so, there are versatile enough technologies and services that can support even the most diverse set of workplace needs. We know this because it's our bread and butter: we've been improving workplace experiences through technology since we created the category in 2018.

As the global leaders of this workplace experience technology, we understand that there are many factors that companies need to consider when enhancing the workplace. These might include unique employee needs, tight budgets, external health and safety concerns, the location(s) of offices, or stakeholders that need to be involved in making the workplace thrive. And to make matters more complex, these considerations are constantly in a state of flux. Now more than ever, companies need to navigate these challenges to generate better, more adaptable workplace experiences for their employees — the only sure way to attract and retain talent in a difficult market.
Because of this, we sought to elevate our existing workplace experience for HqO employees and achieve a few main objectives focused around the individual employee experience: first and foremost, we wanted to provide our own employees with the same state-of-the-art technology and services that we provide for our clients. We deeply believe in creating flexible and engaging workplace environments that allow individuals to produce their best work, however they see fit. 
Secondly, we wanted to take this opportunity to drink our own champagne. Over the past few years, we've perfected our technology to support core property functions, such as mobile access and amenity bookings. We've even used our own product to support these needs in our own office buildings. However, as the concept of workplace experience evolves with time, we know that reaching employees at the individual level is mission-critical for companies looking to support their needs.
And, there is no better way to learn about individual employees' needs and experiences than to become a corporate customer ourselves. Now, not only can we enjoy a more connected workplace experience in every HqO office around the world, but we can use these experiences to proactively improve our product for the companies who partner with us to strengthen their workplace communities and better their businesses.
Curious about our process? Here's how we did it.
Customizing the Product
Planning for HqO's Workplace Experience App kicked off with the launch of the company's new Workplace Experience Ambassador program, an official employee-driven initiative which focuses entirely on how HqO can improve the employee experience as an employer across all of its offices.
Implementation Lead Amanda Pontbriand, alongside our dedicated Workplace Experience Ambassadors, identified and grouped stakeholders from HqO's offices in Boston, MA (our headquarters); New York City, New York; London, England; Paris, France; and Amsterdam, The Netherlands.


Their goal was simple: to ensure that these stakeholder groupings highlighted the unique geographical regions they were from, while also representing different functions and needs in the workplace. For example, each group consisted of members of our Workplace Experience team, sponsors from our Executive team, and colleagues from Human Resources, Product, Engineering, Implementation, and Marketing. 
These employees became the drivers of the app's custom capabilities and features.
Over the course of the next seven weeks, they met separately and as a larger group to discuss ideas for the apps for each office location. One of the most important capabilities that arose from these discussions was the ability to switch between office locations with ease, by using a single app to seamlessly make those transitions. This feature was significant because it would allow HqO to manage multiple locations through a single app. The groups also gave general feedback on features that would draw attention to local deals and happenings, as well as led several discussions about what truly makes a successful workplace experience. 

To keep the planning aligned with larger company goals, these sessions were all framed around three specific goals: 

To leverage the HqO platform to bridge the digital and physical office experiences

To elevate and improve HqO employees' workplace experience, and

To continue to engage and retain talent
As previously mentioned, these goals also served a higher purpose. The more we could test important features and capabilities in our own version of the app, the more we would be able to improve our product and services for our customers. We were eager to experience exactly what our customers were experiencing, and to be able to easily identify new opportunities for our platform that would further elevate their workplace experiences.
"By implementing the HqO Workplace Experience App for our own employees, HqO has the advantage of being able to truly put ourselves in our customers' shoes. Understanding the customer journey, their goals, and the pain points HqO is solving lets us see the 'other side.'  Working closely with HqO's own Workplace Experience team was an insightful experience where no rock was left unturned, and no problem was too big to solve. Providing feedback and learnings with our own Product team also allows us to continue to enhance our technology as a leader in the industry."
— Amanda Pontbriand, Implementation Lead at HqO
Creating a Buzz
Of course, planning and implementing HqO's Workplace Experience App did not end at the product itself. Employees needed to be engaged with the app if we expected them to use it, and the app also needed to be filled with enough interesting and relevant content to keep them engaged long after they had already downloaded it.
With this in mind, once the product was built and tested to reflect the needs of the five HqO offices, our dedicated Workplace Experience Ambassadors got to work. They used the self-service HqO administrative capabilities to populate their versions of the app with location-specific content, as well as to coordinate Launch Day events for each office. This would generate excitement, and introduce HqO employees to all the features and happenings that were curated just for them within the app.
Promotional efforts included communicating the launch to the entire company prior to the event, as well as several Launch Day activities that would encourage users to have fun while downloading the app. These included:
A short presentation by Chase Garbarino, HqO Co-Founder and CEO

In-app push notifications and event posts

Raffles and games hosted through the app, including an in-app Scavenger Hunt

Branded company swag

Build-your-own acai bowls (and other catered goods for each of the offices)

Content that aligned with HqO's company values (Learning, Excellence, Truth, Speed, Goodness, and Ownership)
The Results
HqO successfully launched its product to its own employees, and achieved its goals of implementing an app that would create seamless connections across its global offices. Notable wins include:
87% of employees downloaded the app within 24 hours

Important content and capabilities within the app, such as:

Workflows that allow visitors to each HqO office location to register themselves and seamlessly engage with their custom instance of the app

Company and office information, all in one spot (such as workplace events, HqO newsletters, birthdays, perks, promotions, and more)

A "Request WX Help" feature that allows employees to submit requests through the app, while also tracking common requests for future planning

Tools that allow employees to submit ratings and feedback on an ongoing basis to improve their workplace experience; already, several requests have led to the implementation of employee-favorite foods, drinks, and snacks in the office

The ability to directly share photos and feedback from HqO and customer events

The ability to nominate teammates for company awards and kudos
"Creating an opportunity for our employees to experience our product from the other side was special. The insights we gained from launch — and those we'll continue to glean as we transition into the adoption phase — are invaluable in informing not only our own workplace experience strategy, but that of our customers. Thanks to the data generated through the HqO Workplace Experience App for employers, the guesswork of curating a tailored workplace experience strategy has been replaced by a clear path forward for HqO and its customers. In fact, in our deployment alone, we've already been able to enact changes that align directly with employee feedback!"
— Gillian Vesely, Workplace Experience Ambassador, Boston Office at HqO
Looking Ahead
The HqO team is working to keep the HqO Workplace Experience App iterative and relevant for its employees. The full app rollout plan incorporates several phases, each of which comes with product additions or enhancements based on direct user feedback and employee needs. Ultimately, the app will be available for mass adoption — including for HqO employees located in areas separate from the five main offices. This ensures that HqO will have a strong foundation that can adapt as employee needs change over time, and provide the company with important data to make decisions about features to implement or build upon in the near future.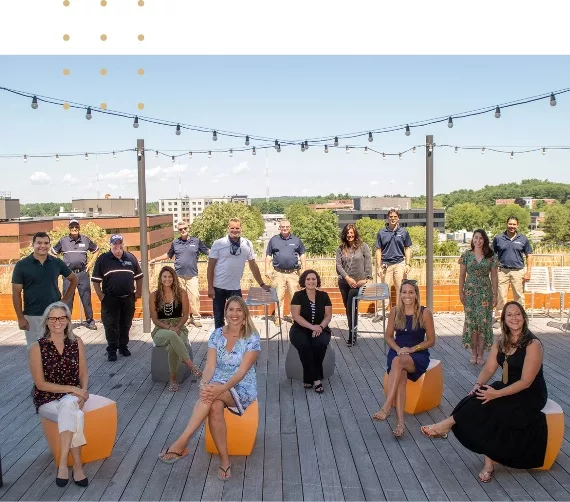 The Most Successful Workplaces are Powered by HqO