Reading Time:
7
minutes
Overview
Summary: Endurance Land sought to give its building occupants more visibility around the happenings across properties with multiple buildings. With HqO, they connected their workplace campuses, increased communication efforts, and supported local and on-site retailers.
Portfolio Size
~ 1.3 million square feet
Client Type
Multiple Assets Corporate Campus
Even before the global health pandemic, many landlords struggled to scale and connect their workplace experiences across their portfolios. Oftentimes, sites that support multiple properties span hundreds of thousands of square feet, which — though their size and locations can offer a lot to building occupants — can leave tenants unaware of the various happenings at their own workplace.
This disconnect can not only cause strain to the landlord-tenant connection, but also to the connections tenants feel to each other and the office itself. Additionally, owners and property teams now face the rise of remote and hybrid work models, making this challenge even more difficult to overcome. On top of a general need to strengthen connections and workplace visibility, large portfolios now must find solutions that address safety, communication, and engagement for a post-pandemic workforce.
In reviewing their strategy, Endurance Land's CEO, Jonathan Fletcher, saw a need to increase their engagement with their customers to develop an informed, best-in-practice approach to their workplace offerings and experiences. After considering the options, HqO was selected to help address these challenges at the London Wall Buildings and the Regent Quarter estate properties in London. Alongside enhancing communications throughout the sites to keep tenants aware, supporting local retailers, and elevating their leasing strategies, they also needed to ensure a safe and communicative return to the workplace.
London Wall Buildings and Regent Quarter
The London Wall Buildings, which are five separate buildings, form one of the four blocks surrounding Finsbury Circus. They are also close by to Liverpool Street station and the future Elizabeth Line station. The asset has undergone extensive refurbishments since its acquisition by Endurance Land, which include premium office fit-outs ranging from 273 to 9,208 feet with some even available on short-term leases. In addition to the office space, improvements to the amenities have been made to include end-of-journey facilities and consent for a roof terrace extension. 
Regent Quarter is situated in the heart of King's Cross to the east of King's Cross Station, surrounded by and benefitting from a dynamic mix of global brands, hotels, and restaurants. The estate is arranged in two blocks and comprises 260,730 square feet of mixed-use real estate across 12 office buildings and 20 retail and leisure units. Regent Quarter represents a significant quantum of high-quality character real estate that benefits occupiers and local residents.
"Engaging with our tenants has always been a priority for us. Our partnership with HqO has been key in supporting this, helping us to improve communication with our tenants, better understand their needs and harness their feedback, at a scale that simply wasn't possible before. The insights gained have been invaluable in allowing us to provide the best experience possible for our tenants."
— Jonathan Fletcher, CEO at Endurance Land
The Challenge
Due to the historic nature of these buildings, Endurance Land knew that building occupants had very limited visibility to the various happenings that occurred across the sites. The number of entrances alone were enough of a concern: the London Wall Buildings have seven different entrances, and the Regent Quarter estate consists of three blocks with a total of ten different entrances.
Thus, the property teams wanted to use an app to communicate site updates, events, and services to tenants no matter where they were located — as well as to support local retail through exclusive in-app deals and offers to encourage sales. Additionally, once the COVID-19 pandemic occurred, they needed the proper technology to communicate their return to work messaging, updated building policies, and more.
A Power Tool for Communication
Prior to the introduction of the HqO Workplace Experience Platform, Endurance Land's property team at the London Wall Buildings had communicated with tenants via a weekly newsletter. When HqO initially partnered with Endurance Land in November 2019, the team wanted to continue the newsletter by including a PDF version of it in the tenant app itself. However, through a brief testing period, they discovered that breaking the newsletter down into daily content tiles saw 6x higher engagement than the original PDF. As a result of this, the newsletter was discontinued and a more extensive content plan had begun.
The teams collaborated on a 52-week content calendar to manage engagement and encourage networking within the various on-site buildings through the app. They also worked out a cadence to provide weekly building updates around refurbishment efforts to minimise disruption to tenants, while also building excitement by sharing "sneak peek" images to give occupants a preview of what was to come. During the pandemic, Endurance Land again leveraged their tenant app to share communications and conduct tenant surveys for direct feedback.
This partnership grew the following year, when HqO digitally launched at the Regent Quarter estate in August 2020. Originally due to launch in-person during the month of March, it was postponed due to national lockdown restrictions at the time. Endurance Land noted the success at its London Wall Buildings, and realized that having the app as a direct communication tool with tenants was a necessity. Applying this same train of thought to their Regent Quarter property, they also sought to maintain a sense of affiliation with their office space and the daily routines of their tenants by keeping them connected.
Just as they had done for the London Wall Buildings, the teams worked together to make all events and happenings across the site accessible and known for Regent Quarter occupants. With the added feature of being a mixed-use location, there was also a large focus to connect the office tenants with the retailers on-site. Through exclusive deals and a custom retailer directory available on the app, tenants could educate themselves about exciting offerings and take advantage of local vendors. The app was then used to communicate the re-opening of these retailers during the late stages of the pandemic to support sales and re-engage office tenants.
Additionally, HqO worked closely with onsite fitness provider Trang Fitness to bring remote classes to users through the app as they were working from home — which not only brought wellness opportunities to tenants in a safe way, but also helped them remain connected to the office while they were not physically in the buildings. Since then, the app has served as a significant addition to leasing tours for the two properties, allowing property teams to market new available space to both existing and external tenants through showcasing building amenities and offerings.
"We saw huge value in introducing HqO as a tool to optimise communication across our buildings. With London Wall comprising multiple entrances and Regent Quarter a mixed-used estate, introducing the apps as a single source of truth has truly strengthened communication across both sites, allowing us to engage with tenants at an individual level. Over the past 12 months this has become even more critical."
— Henry MacInnes, Director at Endurance Land
The Results
Endurance Land achieved their goals of connecting their campuses, increasing communication efforts, and supporting local and on-site retailers. They are now in a strong position to be able to successfully navigate the return to office at both locations in 2021. Notable wins include:


London Wall Buildings
62% of tenants downloaded the app by day 2

93% app of tenants have downloaded the app at present

69% monthly active users before the pandemic 

24% monthly active users since the pandemic
Regent Quarter Estate
55% monthly active users since launch

35% weekly active users on average
"The immediate, positive feedback was exciting. Within hours, tenants were downloading the app and participating in building programming, and from the very day we rolled out the technology, individuals began telling us how connected they now felt to the rest of the building."

— Jonathan Fletcher, CEO at Endurance Land, UK
Workplace Experience Highlights
"The app has been hugely helpful in showcasing the landlord's aim to provide an inclusive building that not just focuses on its built amenities — i.e. meeting rooms, a new café, and a new reception lobby — but has acted as a collaboration tool bringing together local retailers, office workers, and even leisure users despite the complexity of the last year. Prospective occupiers have been given a vision of the building community through the app's infrastructure, which has helped build our leasing campaign and story to date."

—  Alfie John, Senior Surveyor at Colliers International
Leasing Magic
Property teams for the London Wall Buildings and the Regent Quarter Estate have been able to show prospective tenants on leasing tours what is available in the building in terms of programming, amenities, and other on-site offerings through the app, leaving a modern and memorable impression.
Easy Upgrades
As part of ongoing refurbishments to the London Wall Buildings, leasing options were listed in the app to allow tenants to increase and upgrade their space with ease.
Real-Time Feedback and Support
Endurance Land sent out surveys to building tenants to keep in touch with them while they worked remotely, and to find out what kinds of content they thought would be most helpful during this transition. One of the results of this was an increase in content in the app's 'What's Cooking?' section.
Digital Programming
Endurance Land began promoting new remote services offered by tenant groups, such as remote fitness and wellbeing classes by London HealthCare Clinic.
Supporting Retail
Through the app, local retailer offerings can be leveraged at home. For example, tenants can access restaurant food parcels to recreate restaurant food at home in the 'Eat Out at Home' section.
Safe Transportation
The app highlights new on-site free bike services to help promote a pandemic-safe method of transportation for those needing to visit the office, while also encouraging carbon-free travel.
Future Plans
Endurance Land plans to continue to work with HqO on building out a technology stack across both properties that will bring desirable experiences — such as modern visitor management systems and order ahead capabilities — to tenants through integrations from the HqOS Marketplace ecosystem.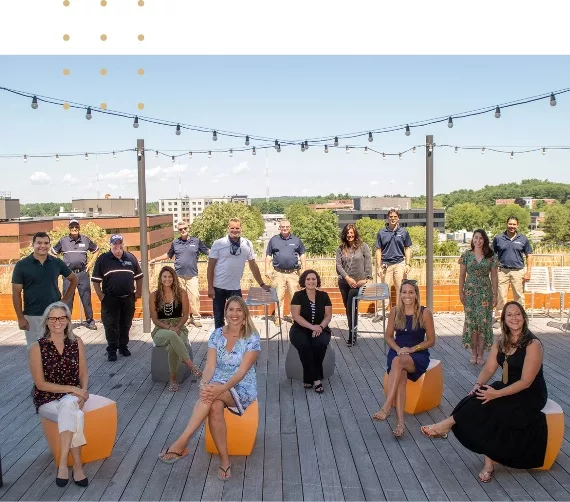 The Most Successful Workplaces are Powered by HqO