Reading Time:
6
minutes
Overview
Summary: Jamestown wanted to make sure its iconic IDB asset remained competitive in a fast-paced industry. Not only did they invest in making the building highly amenitized, but they sought to put tenants first and use their feedback to improve upon their offerings. With HqO, they quickly achieved their goals of activating their investments and building a stronger community and landlord brand with 89% of tenants signed up to their Workplace Experience App.
Today's commercial real estate (CRE) firms face an emerging set of challenges, and visionaries like Jamestown are reinventing the industry through a relentless focus on tenant experience. At a recent centennial celebration event, Jamestown gave away 100 pairs of Reebok sneakers branded with the logo of their iconic property, the Innovation and Design Building. The sneakers were sold-out in just seven minutes. 
How has the team behind the Innovation and Design Building turned tenants into raving fans of their brand?
The Innovation and Design Building offers a powerful case study for staying competitive in an ever-changing market focused on putting tenants first. By using workplace experience technology, they have been able to center every element of their brand and building management around the people in their buildings. HqO has been a proud partner to Jamestown, helping deliver a tech-enabled piece of the strategy to bring this vision to life.
Innovation and Design Building
The Innovation and Design Building is a 1.4-million-square-foot commercial mixed-use, multi-tenant asset located in Boston's Seaport District. The property is owned and managed by Jamestown. Anchor tenants include world-class brands like: Reebok, which bases its global headquarters at the IDB; Mass Challenge, one of the world's largest startup incubators; and the Boston Design Center, Boston's premier resource for design professionals.
As home to some of the city's highest-growth companies and creative talent, Jamestown has developed a space that brings together the area's top business, design, and experiential companies. Thus, IDB is home to makers, designers, architects, communicators, researchers, manufacturers, technologists, innovators, and entrepreneurs.
The building itself offers flexible floor plans, natural light, and high ceilings. To attract technology, advertising, marketing, and information (TAMI) tenants and the cornerstone companies of Boston's innovation economy, the IDB invested heavily in a number of physical improvements to the property as well as a technology platform to activate those new amenities.
The Challenge
To attract and retain highly sought-after tenants, Jamestown, like most commercial office owners, invested heavily in amenities for the building. These investments include on-site retail, a fitness center, shuttles, and community events.
However, Jamestown needed a way to track which amenities were popular, effectively communicate the offerings to their tenants, and incentivize and promote the on-site and local retail to its tenant population. They partnered with HqO to build a technology solution to streamline communication, activate their amenities, and track data to align future investments and effectively serve evolving customer needs.
Getting to Know Customers Through Data
In a landscape driven by underlying shifts, commercial real estate firms need a strong strategy to compete — and the Jamestown management team recognized that competing successfully cannot be accomplished through amenities alone. Instead, they took the steps needed to own the relationship with their tenants by deeply understanding their most important needs and creating experiences to fulfill them.
Leading with a tenant-first perspective, Jamestown optimized the space, addressed challenges their tenants faced, and went above and beyond to deliver value and programming that reinforces the tenant experience at all levels. HqO's workplace experience framework focuses on several areas of tenant experience, including: convenience, entertainment, mobility, security, sustainability, food and beverage, accessibility, and wellness. The IDB team invested heavily in each of these areas, and then used a series of strategies and platform features to activate the value of those investments.
The Results
The Jamestown team quickly achieved their goals of activating their investments, building a stronger community with their tenants, and reinforcing their brand. Some of the most notable wins include:
89% of tenants are signed up for the app

54% of tenants are active monthly users

As Jamestown prepares to add new buildings, they're scaling the experience across their portfolio
"The team has listened to our needs and understands our vision and culture. [They] have been very responsive and all content updates are done in a timely manner. We appreciate working with a very proactive team, and look forward to a long positive relationship."
— Michael Dekrmnjian, Property Manager at Innovation and Design Building
Workplace Experience Highlights
"Building shuttle usage data helped us determine that our shuttles are running at full capacity and that we might need to consider upscaling. Similarly, tenant engagement data has helped us understand the type of events/services our tenants like the most and plan more throughout the year."
— Michael Dekrmnjian, Property Manager, Innovation and Design Building


By leveraging HqO's platform, the IDB management team routinely tracks engagement, event participation, and emerging needs to shape its future programming. Recently, the IDB team was considering a major investment to bring an upscale restaurant to their mixed-use commercial space. The management wanted direct tenant feedback to guide this important CapEx decision: Was this the highest value use of the space and resources? They leveraged the platform to survey tenants and to identify further opportunities and needs. The survey revealed that tenants were happy with the existing meeting space and dining options. An upscale dining option was #7 on their list. Yet, it also revealed a more pressing opportunity. The building's location made it difficult to sometimes access pharmacies conveniently during business hours. The managed team partnered with a pharmacy to offer popup retail programming. It was a big hit with tenants and ensured that each dollar invested in growth had a maximum impact on the tenant experience.
Eliminated Commuter Stress
Commuting to and from work is a major source of stress for professionals, and efficient transportation options play a key role in alleviating that. The Innovation and Design Building is located in Boston's Seaport District along the water and accessible from Boston's public transportation system. However, the IDB team recognized this could be a pain point for tenants, especially when multiple bus, train, or shuttle service changes were involved. The shuttles operate on a schedule, but Boston's heavy and sometimes unpredictable traffic could make it challenging to pinpoint a shuttle's arrival time. The HqO team suggested an integration that leveraged the shuttle's onboard GPS devices to add a tracking feature to the app. The app now provides a real-time shuttle tracking feature, which helps tenants better plan their commutes and maximize their productivity, while eliminating wait times and commuting frustration. Because the shuttle tracker is centralized in the IDB HqO app, it supports the open tenant-focused communication that Jamestown fosters throughout their experience.
Real-time data and insights help ownership and property management make smart business decisions based on how a building is used. Jamestown has used the data provided by the HqO platform to optimize performance and target their programming. Consider this example: food trucks and pop up dining bring diverse dining options to tenants on a regular schedule. By tapping into the app, it was possible to determine which food providers were the most popular – right down to specific menu items. Leveraging that data helped the management team determine which vendors to bring in permanently. It was also used to push promotions through the app for popular items, and to bring attention to vendors and dishes currently being overlooked. Using data to tune into the tenant experience at that micro-level drove relevant, personalized offerings and interactions. It also helps drive additional revenue and value for retail partners, service providers, and pop up programming vendors.
The IDB has shown industry-leading creativity through their event programming. HqO provided support to this initiative at many levels. Information about event programming was centralized in the app, making it easier for tenants to track what's going on that they might be interested in. By leveraging engagement and attendance data, the IDB quickly identifies what types of events are working and not. In 2019 alone, the IDB has offered a variety of services and creative programming to tenants. In addition to the permanent onsite food and retail opportunities, these have also included creative options such as:
Manicures

Eye exams

Invisalign consultations

Blood drive

Bike tune-ups

Vehicle wash and detailing

Injury screening

Teeth whitening
Meeting the needs of busy tenants makes core services available during the workday – such as during a lunch break or before a commute – a significant value-add to being part of the IDB community.
The Future of the Workplace
The Jamestown Innovation and Design Building is a powerful example of how a tech-enabled workplace experience focus can provide lasting competitive differentiation in today's commercial real estate market. By investing in strategies that activated their investments and amenities, the IDB addressed their tenants' most pressing concerns and offered high value-add services and programming to solidify community-building. HqO's platform has enabled their vision to take shape in a mobile-friendly, accessible way. The IDB's willingness to remain on the cutting edge of tenant experience means that they've effectively leveraged insights, data, and advisory services for ever-improving results. The future is bright for the Innovation and Design Building, and their roadmap to success is built on a foundation of strategic tenant engagement management and technology.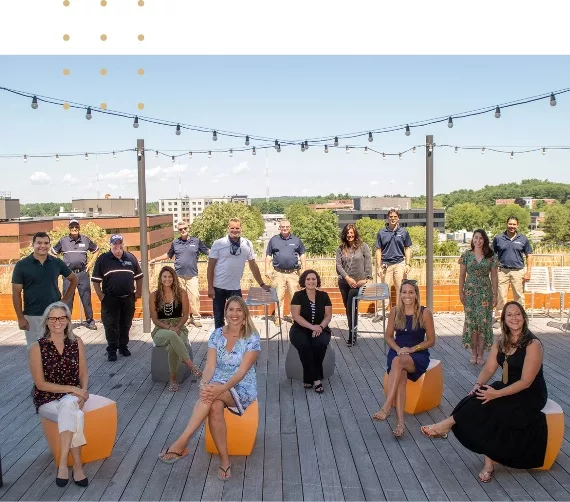 The Most Successful Workplaces are Powered by HqO