Reading Time:
6
minutes
Overview
Summary: Jamestown needed a way to communicate with and connect to the thousands of tenants and daily visitors at their landmark Ponce City Market destination. With HqO, they engaged with their diverse community through their Workplace Experience App, as well as enhanced their innovative offerings and programming.
Client Type
Asset-Level Public-Facing
For properties that are home to mixed-use tenants, establishing common experiences across varying sectors and groups of individuals can be challenging. However, dedicated and innovative asset teams have been leveraging the rise of the proptech industry to connect people to each other, as well as to draw people back to buildings. Having a modern toolset can not only unify and scale a property's cutting-edge experiences in order to engage as many people as possible, but also foster a sense of community in the process — one that is driven by tenant experience technology and associated directly with the overall landlord brand.
This was exactly the circumstance for leading real estate investment and management company Jamestown at their Ponce City Market (PCM) asset. As is the case with all of their properties, the Jamestown team sought to provide best-in-class customer service to their diverse tenant population — driven by the same innovative strategies they became known for in the Innovation and Design Building in Boston, MA. Through their partnership with HqO, they successfully achieved their mission of transforming PCM into an iconic innovation hub and community center — setting a model example for other property teams while delighting their customers through unique experiences that are facilitated by their public-facing and white-labeled tenant app.
The Asset
Ponce City Market combines 259 residential flats with approximately 550,000 square feet of Class A loft office space and 300,000 square feet of retail and restaurants. In 2018, it was named Office Building of the Year by the Building Owners and Managers Association (BOMA).
Originally constructed in 1926 as the Sears, Roebuck, and Co. warehouse and distribution facility, the property preserves its historic nature while boasting memorable and modern facilities. At the heart of PCM is the marketplace itself — a flexible space to gather, eat, and shop. In the Central Food Hall, artisan chefs and local purveyors fill an authentic market with the design, food, and flavors of Atlanta. From morning coffee, to lunchtime shopping, and date-night dinners, the Central Food Hall is a daily gathering place and culinary destination year-round.
Retail shops and offices add to the life, color, and culture of PCM and its surrounding neighborhoods. Residents of the Flats apartments in the upper floors of the east and west wings are just a few steps or an elevator ride away from workplaces, shopping, the Central Food Hall, and direct access to the Atlanta BeltLine. The Atlanta neighborhoods of Virginia-Highland, Poncey-Highland, and Midtown are all within easy walking or pedaling distance. The roof features panoramic views, an 18-hole mini-golf course, boardwalk-style games, craft cocktails, and more.
"The app has been key to creating successful property experiences and driving community, particularly during the COVID-19 pandemic. HqO has increased resiliency for us as the landlord and for our tenants, allowing us to effectively communicate and connect with tenants and enabling our tenants to digitally sustain sales when physical retail was shut down."
—Michael Phillips, President at Jamestown
The Challenge
Before partnering with HqO, Jamestown had to manually communicate with their various tenants, as well as their public guests who visited the property as a top Atlanta destination. On the workplace side, they had to work with the office managers for each tenant to disseminate communications through email, texts, and other sources that forced building occupants to keep track of multiple avenues for important information.
On the retail and public-facing side, Jamestown sought to promote their local retailers and restaurants to the general population beyond their website, social channels, and earned and paid media programming. Additionally, with the onset of the COVID-19 pandemic, the need for increased landlord-to-tenant communication became necessary in order to keep occupants updated on the latest health and safety regulations. Not only could placing this information directly in the hands of their customers help increase building occupancy safely, but it could also support the local community through driving sales to their retailers despite having fewer people on-site.
A Map of Seamless Technology Experiences
Before launching with HqO in July 2019, Jamestown's initial objective was to connect with PCM's office tenants. To keep them engaged with the property as well as their on-site retailers, the Jamestown team sought out new and modern ways to generate interest and create frictionless experiences throughout — making sure that their workplace experiences were both comfortable and convenient. This goal, alongside implementing a public-facing app to reach every member of PCM's community, has been accomplished through the implementation of HqO's Workplace Experience App.
A large part of this initiative involves a collaboration with HqO Marketplace technology partner Ritual, a best-in-class contactless payment and ordering platform. To maintain social distancing, as well as to automate on-site food delivery, the partnership helps individuals get food delivered to them without ever having to leave their offices. Additionally, Jamestown is currently working with Marketplace partners MappedIn and Minnow to further enhance these mobile food offerings. Their vision includes mapping out a system for curbside pick-up across the property, as well as piloting contact-free pickup pods to allow PCM app users to have their orders delivered to a secure locker, which can then be opened with a smartphone upon arrival.

Once complete, these innovative programs will help those working on-site feel safe and give them choice, as well as elevate support for the local community by attracting tourists back on-site. All digital amenities and offerings — which also include a McKenney's dashboard for air filtration monitoring and reporting, resource booking for conference areas, shuttle tracking, and parking via Flowbird — are available through their white-labeled tenant app, which is serving as a focal point for the PCM property.
"Having a dedicated team to help us navigate through the uncertainties of implementing new technology has been key to creating successful property experiences."

—Michael Phillips, President at Jamestown
The Results
Jamestown achieved their goals of engaging with their diverse community through workplace experience technology. Additionally, they've received positive customer feedback for their efforts and innovative programming. Notable wins include:
Ponce City Market boasts of 6,500 total app sign-ups 

The property averages about 1,000 new app users per month

Between December 2019 and December 2020, app engagement never fell below 40%

Ponce City Market's holiday series was the highest engaged with content on their white-labeled app, of which HqO produced in-app giveaways, trivia, and tenant- exclusive perks
Workplace Experience Highlights
Connecting The Southern Dairies Annex
Shortly after implementing HqO at PCM, Jamestown acquired an office property across the street called the Southern Dairies Annex. To increase the value of that property, Jamestown used their whitelabeled app to brand it as part of PCM. To do this, they offered Southern Dairies employees the same benefits of the main PCM site, which in turn unified their culture and encouraged more engagement with PCM's retailers and restaurants.
Sharing Important Building Updates
Jamestown leveraged the content section of their PCM app to share important building help information, helping tenants and community members feel at ease returning to the site. This new "Building Help" section includes on- site updates, as well as a running report on interior air quality and sanitation measures.
Offering In-App Specials
To further help support local retailers and restaurants, the PCM Workplace Experience App includes special in-app offers and deals for office workers and community members.
Promoting a New Food Hall Expansion
Jamestown is opening a new Food Hall Expansion area, which will be accessible to the public, residential tenants, and on-site office workers. Through special in-app offers and mobile ordering capabilities, tenants and visitors alike will be able to try out new restaurants and retailers at their own convenience — as well as to receive notifications of new retailers as they join PCM.
Incentivizing Tenants
Looking ahead, Jamestown will continue to provide new and innovative experiences that incentivize employees and members of the community to come back to the office and to engage with retailers and other offerings at Ponce City Market. As new digital programming efforts begin to roll out, Jamestown will continue to lead its innovative asset strategies through a focus on occupant experiences.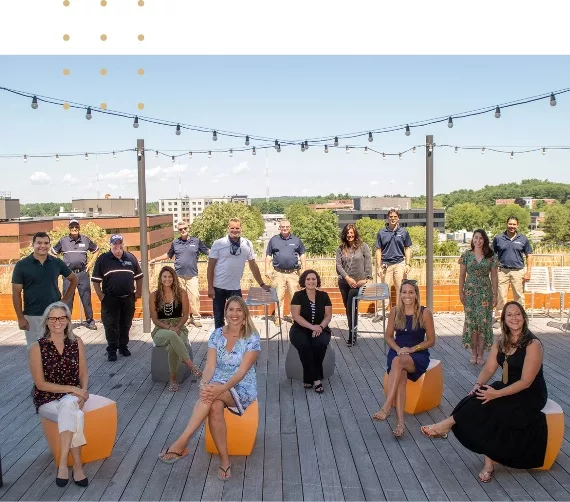 The Most Successful Workplaces are Powered by HqO