Reading Time:
5
minutes
Overview
Summary: Intercontinental Real Estate knew that in order for its 955 Massachusetts Avenue office property to keep up with its competition, they needed to activate its amenities and increase tenant engagement to attract and retain tenants. With HqO, they successfully rolled out and promoted a new amenity center and a shocking 99% of building occupants downloaded their Workplace Experience App.
In the evolving landscape of commercial real estate (CRE), it's more important than ever to remain competitive by implementing the things tenants and their employees care about. This means optimizing offices for peak employee happiness, satisfaction, and convenience.
With flexibility and remote work needs on the rise, how do CRE stakeholders such as property owners, property managers, asset managers, and landlords attract and retain tenants? In short, it goes back to that optimized — and amenitized — office space. Tenants have reached the point where 80% of top performers miss their physical office locations due to the sense of community and collaborative environments they present. The flight to quality concept of highly amenitized buildings plays a major factor in strengthening workplace cultures, no matter where your tenants are working.
The rise of tenant experience technology is designed to help CRE stakeholders bridge the gap between them and their tenants, ultimately leading to healthier leasing cycles. With the right strategy, a property can leverage what it does have to cater to a more tenant-centric approach. Here's a closer look at how one of Intercontinental Real Estate Corporation's Boston-area properties, 955 Massachusetts Avenue, supported their tenant companies through modern employee engagement strategies.
955 Massachusetts Avenue
955 Massachusetts Avenue is a 95,000 square foot office building located in Cambridge, Massachusetts, right in the midst of beloved Harvard Square. This eight-story, Class A building is anchored by Mathematica Policy Research and also features ground-floor retail tenants including The UPS Store. Constructed in 2001, the property was not built with modern amenities in mind. However, Intercontinental had other plans for it when they acquired it in 2020.
"When we acquired this building, we realized how important it was to have a tenant experience app to provide updates, events, and other important information regarding the fitness center and amenity center."
— Scott Kelly, Regional Director, Asset Management at Intercontinental Real Estate Corporation
"Our tenant's experience is our top priority. We understand each tenant has options when it comes to deciding on a property to lease, which is why we do everything in our power to provide the best experience possible. Part of this is providing updated and attractive amenities."
— Scott Kelly, Regional Director, Asset Management at Intercontinental Real Estate Corporation
The Challenge
Just steps away from 955 Massachusetts Avenue are Cambridge's technology hubs in Technology Square and Kendall Square. Within these influential areas, many big-name companies — including technology giants Amazon, Facebook, and Microsoft — had Boston-area offices with a significant footprint of both people and amenitized commercial office space. Regarding amenities, it's not entirely fair to say that the building had none: it did feature a small, internally-run cafe for tenants, though its business was fairly slow and it seemed not everyone in the building knew of its existence.
One of 955 Massachusetts Avenue's biggest problems, aside from not being optimized for amenities, was competing with neighboring properties and companies in order to bring an excellent workplace experience to building occupants. Temptation was on every corner with shiny, modern, amenitized spaces, so the goal was simple: Elevate 955's profile in order to show appreciation for tenants, build a greater line of communication during upcoming construction and maintenance updates, and utilize HqO's custom white-labeled app to facilitate strategic amenity rollouts. Ideally, by increasing value through tenant-facing initiatives, Intercontinental was increasing the value of the building, making renewal conversations that much easier when it came to leasing negotiations.
Putting Tenants First
Inarguably, one of the biggest advantages workplace experience software provides CRE stakeholders is an ability to learn more about the people who use your property every day. Given how often people use a commercial office space, there are millions of data points for any given building and group of tenants. The better you get to know them, the better you can serve them.
"In the short time that we have been working with HqO, we have seen how useful it is to gain more insight into the tenants. We're able to receive feedback through HqO which in return helps us better serve our tenants."
— Scott Kelly, Regional Director, Asset Management at Intercontinental Real Estate Corporation
The Results
Intercontinental partnered with HqO to drive tenant outreach during the rollout of the amenity center, communicate with tenants during periods of disruptive construction, and shared renderings, pictures, and details of the plans and construction through the app in order to get them excited and engaged. Notable wins since launch include:
Over 99% of building occupants have downloaded and regularly engaged with their building app since launch

Digital content engagement has remained steady throughout the pandemic from March through December

Holiday events, trivia, and community offerings have been popular drivers of app use, and have received the most clicks
"The value from having intimate knowledge of how tenants use our spaces is immeasurable. We're excited to continue to use HqO and their great services when employees return to the office."
— Scott Kelly, Regional Director, Asset Management at Intercontinental Real Estate Corporation
Workplace Experience Highlights
Easy Sign-Ups
When the new amenity center launched, Intercontinental facilitated waiver sign-ups exclusively through the app. Once a new signup is submitted, it is sent directly to the property management team, which has greatly helped their organization surrounding the launch and activation of the new space. Now, even more mobile amenity services come to the building and take advantage of the amenity space, including exercise and yoga classes.
Additional Revenue Streams
They drove customers to their cafe by offering promotional items that could be claimed through the app, such as coffee in the mornings. As a result, awareness of the small cafe increased and revenue rose as well. They even solicited feedback on adding a game table to the cafe, specifically if tenants wanted a billiards table or a foosball table.
Facilitating Discounts
As construction continues on the exterior of the building, Intercontinental plans to facilitate discounts through the building app as a way to say thank you to tenants and occupants for their ongoing patience, as well as to be sure they recognize that Intercontinental understands the inconvenience the construction presents.
Direct Tenant Communication
As amenity center construction began, Intercontinental used their building app to effectively communicate with tenants.
Mobile Amenities
Intercontinental brought in several mobile amenities to the building, including chair massages, manicures, and bike tune-ups for the large number of building occupants who opted to ride to work instead of driving.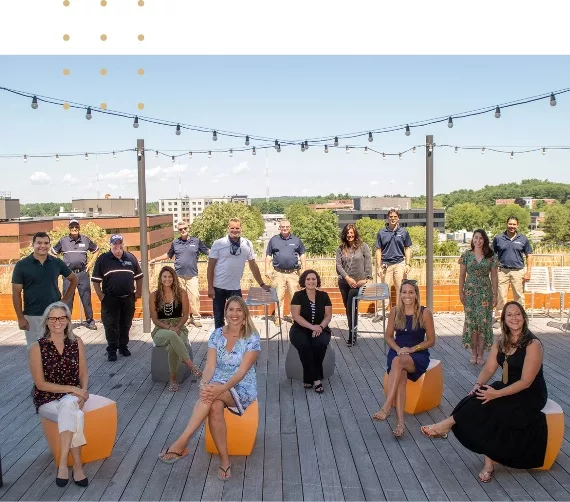 The Most Successful Workplaces are Powered by HqO