Reading Time:
8
minutes
Overview
Summary: National Development needed to own the tenant communication process in order to elevate the landlord brand and increase tenant engagement through The District's events and offerings. With HqO, they were able to use workplace experience technology to elevate their programming and amenities while connecting tenants to the workplace.
Client Type
Asset-Level Corporate Campus
When it comes to showing tenant appreciation and establishing excellent customer service, landlords and property teams are commonly challenged with finding new and innovative ways to connect to the modern workforce. 
Currently, technology is so integrated within our personal lives that we often don't think about it. From the second we wake up, we're immersed in an almost invisible ecosystem built to observe, learn from, and improve our everyday experiences. Smartphones make up just a fraction of this ecosystem, which also includes the various IoT technologies and other personal smart devices that we interact with throughout the day. With 62% of American workers claiming that smartphone devices "play a key role" in their workplace productivity — and the average mobile user checking their smartphone 63 times a day — why not leverage the same technology to communicate and engage with tenants in the workplace as well?
For multifaceted real estate company National Development, this concept was a no-brainer. As experts in the tenant engagement space — acknowledged by their 2020 TOBY Award — the team knew that they wanted to enhance their tenant engagement initiatives in modern and creative ways for their suburban office park at The District Burlington. Additionally, they faced the task of uniting and strengthening their workplace culture across the property's large campus. In order to ensure that The District's lively, tenant-focused culture was accessible to all employees — especially during the onset of the COVID-19 pandemic — they sought a more streamlined approach to reach as many people as possible. When you mix a team who truly cares about the needs of their tenants with the right technology partners, you get exceptional results. Here's how The District "won" in workplace experience.
The District Burlington
Located in a prime position right off of Route 128/Interstate 95 — 17 miles from downtown Boston and adjacent to the super-regional Burlington Mall — The District Burlington has excellent visibility and dominant branding seen by 225,000 commuters daily.
In 2014, construction began on a multitude of new projects including upgrades to building entries and lobbies, a three-level parking garage, three retail buildings, a 170-key Marriott Residence Inn, and significant streetscape, landscape, and wayfinding improvements. One of the most impactful changes was to the 11-story, 218,525 SF tower at 700 District Avenue, which improved its footprint with a 54,000 SF addition creating 80,000 SF of new state-of-the-art workspace, a green roof/roof deck and gleaming glass exterior that now visually defines the terminus of District Avenue.
Additionally, National Development brought in six restaurants with a variety of price points and food offerings, a high end "style bar," a bank, and improved its open space with a nature trail, pedestrian pathways, and pocket parks. The property also boasts an 8,000 SF fitness center, yoga studio, cafe, and private shuttle service to and from Alewife to provide an amenity-rich culture for nearly 4,000 employees. Currently, The District Burlington is a 1.3M SF suburban office park and one of the only mixed-use environments of its kind in Greater Boston. It is 96% leased to a diversified roster of 60+ regional, national, and global tenants ranging from 231 to 147,450 SF.
"We always strive for excellent tenant engagement at The District. Our tagline has always been that our environment is 'Beyond 9 to 5.' We all spend so much time where we work nowadays, sometimes more time here than with our own families. The least we can do as property managers is offer our tenants as much as we can. We care about all the things that go beyond a normal work day — our amenities, events, retail locations, even the little things to get the most out of the day. We want our tenants to know that we're not just an office park, we're a community within the larger Burlington community. Tenant experience is of the utmost importance to us, because we're not your normal workplace."
— Stephanie Williams, Property Administrator at National Development
The Challenge
Before partnering with HqO, National Development relied heavily on tenant gatekeepers across their property. This meant that all necessary communications, updates, flyers, announcements, and other important information that needed to be relayed to the larger tenant base would first go through their tenant point-of-contact via email. They soon realized that having tenant gatekeepers broke down the communications process for a number of reasons. Not only did it entirely depend on the gatekeeper's presence in the office and ability to quickly disseminate information, but it revealed that depending on email was not an efficient way to inform people of property-wide events and information.
With this in mind, the National Development team realized they needed a way to directly own the tenant communication process. Streamlining this process and cutting out the middlemen would allow them to connect directly with their building's consumers in a way that had never been done before. They also understood that the modern tenant population was more technologically advanced than it used to be, and the key behind capturing a larger audience relied on a mobile app that would place these communications right in the palms of their tenants through their smartphones. Thus, they adjusted their approach to incorporate property technology into their tenant engagement initiatives.
A Technology-Driven World of Opportunity
To play into the already-existing dynamic and innovative environment that The District nurtures, as well as to keep pace with a technology-based tenant population, National Development launched HqO at The District in February of 2018. Through the HqO app, they were successfully able to disseminate information to all of their tenants and employees, spreading their workplace culture to people they were previously unable to reach.
Additionally, the partnership meant that National Development had also combined forces with HqO's best-in-class ecosystem of technology partners from HqO'S Marketplace. Through partners such as EXOS, a leading fitness and wellbeing provider, they were able to supplement their on-site amenities in new and exciting ways. For example, by leveraging digital programming, EXOS enhanced their health and wellness offerings through virtual classes, hosting individual digital coaching and group check ins, safe in-person registrations, and more.
"The HqO platform has long been the central hub of information for The District Burlington Fitness Center and we have relied on it even more during this pandemic to seamlessly engage with the campus population. It continues to be a major resource in the success of our fitness program."
— Alycia Mazzapica, EXOS Program Manager and site lead at The District
They even deepened their connection with their surrounding community through promoting their corporate social responsibility initiatives. Through Building Impact, they were able to offer unique, virtual volunteer opportunities (i.e. picking winter essentials and games to be given to veterans on Veterans Day, and virtually assembling holiday gift baskets for families who escaped domestic violence). These capabilities strengthened the National Development team's overall tenant experience, and helped them adjust to the recent growth of hybrid work models by making it easier to engage with a recently dispersed tenant population.
"HqO has given us the opportunity to reach our tenants on a broader level. With their Tenant Experience Platform, we're able to get our information in front of our tenants and their employees both quickly and efficiently. The District now has a one-stop-shop in the palm of each tenants' hands. They have everything they need: information on our retailers and in-app specials, order ahead, event happenings, and even health and wellness programming from our state-of-the-art fitness center. In today's world, you no longer have to go through old school papers and flyers in the break room to find out what's happening at work. You also don't need to wait for someone else to give you this information. Instead, you can access it all right there on your phone, and that's key." 
— Allan Luciw, Senior Property Manager at National Development
The Results
National Development achieved their goals of engaging with a modern tenant population through tenant experience technology. Additionally, they've received positive tenant feedback for their efforts and innovative programming. Notable wins include:
The District mobile app has been downloaded by about 51% of their tenant population.

Attendance at their

2019 Block Party event increased from about 1,000 people to 1,600 people after National Development implemented the HqO app.

During the winter months of COVID-19, The District organized a holiday gift card raffle through their tenant engagement platform. This was not only an attempt to reconnect with tenants and keep them engaged with company culture, but to show their support during a difficult time for their on-site retailers. This program garnered an additional 32 signups and generated 234 unique users in the month of December.

Most engaged with content in the app is about building activities and news, health and wellness, and on-site retail.
"Our tenant success is truly a collective effort. It involves HqO's dedicated team, our relationship with the community, and our team at The District. Our on-site team has always worked hard to achieve results, and their communication and work ethic have come together in such a special way that I think is visible to everyone. HqO has become a valuable partner at The District."
— Angela Iannuzzi, Property Manager at National Development
Workplace Experience Highlights
Winning a TOBY Award
The District was recently awarded a BOMA Boston TOBY award for Outstanding Building of the Year in the Suburban Office Park Mid-rise category. This prestigious commercial real estate award recognizes The District Burlington for its superior performance in building management, operations, tenant relations, and community service. In particular, National Development scored highly on their tenant engagement efforts, which considered their offered amenities, tenant communication, and involvement with their community — all of which have been advanced through the HqO app to help provide a world-class customer experience.
An Oktoberfest Success
The District hosts an annual Oktoberfest event, which provides food, drink, and other activities for its tenants. HqO's technology helped facilitate this event through in-app registration, general communication outreach, and more. During their 2019 Oktoberfest, The District witnessed many of their employees excitedly waiting to use their phones as a ticket to enter the event. Additionally, they received more than 150 new app downloads from September 2019 to October 2019 — garnering the most engagement the account has seen to date and up almost 21% from the previous month.
The Little Things
Despite having many larger initiatives, National Development has also used the app to facilitate little events and perks for their tenants throughout the year. Some tenant favorites include free succulent pumpkins, a free smoothie at the on-site cafe, make-and-take chocolate boxes, make-your-own flower arrangements, and weekly trivia every Thursday.
What's Next?
As National Development continues to provide exceptional tenant experiences at The District, they want to ensure one thing: that tenants don't feel like they're just going into an office every day. Their innovative mindsets continue to leverage tenant experience technology to engage as many tenants as possible, and to bring their visions and energetic workplace to life.
"We want to make sure tenants know that they're going to a place where the owners and management team really care about them, and are providing them with an environment that empowers them to step away from their regular office life and enjoy what The District has to offer. HqO's technology has proven to be so critical to this effort."
— Angela Iannuzzi, Property Manager at National Development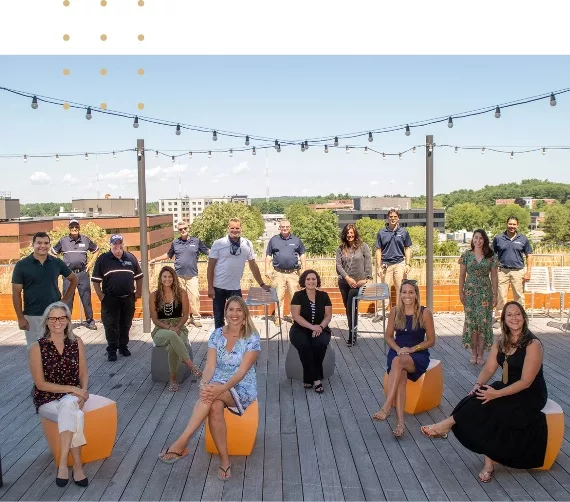 The Most Successful Workplaces are Powered by HqO